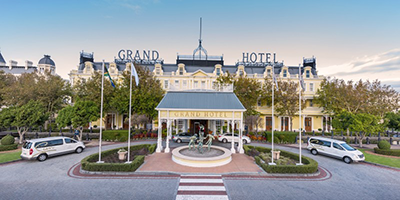 Sun International's property in Cape Town, GrandWest Casino and Entertainment runs great promotions every month. With March winding down, we popped in to see what players can look forward to at GrandWest next month, and we loved what we saw. GrandWest Casino is open 24 hours a day and seven days a week, offering smoking and non-smoking gaming facilities to visitors.

Here is a rundown on just some of the specials that you can look forward to at one of Sun International's most popular entertainment destinations in South Africa during the month of month.
Visit the casino frequently to find out how you can earn while you play at one of SA's best brick-and-mortar casinos.
April's Cool Power Winners Promotion
When? April 1st between 6 and 10 pm.
Prizes: A share of R150,000 in Xtra Play
Saturday Sizzle Promotion
When? April 2nd and 9th
Prizes: R300,000 Xtra Play over the promo period. R150,000 per day.
Draws will take place on both days in the Salon Prive from 8 – 10 pm.
Bonus Times
When? April 3rd
Prizes: A share of R150,000 in Xtra Play
Draws will take place in the Prive venue at GrandWest Casino between 5 and 7 pm.
On the Spots Tables Tournaments
When? Every Thursday in April and May 2022. Weekly.
Prizes: Total promo prize value is R80,000 in cash. The winner of each final will receive R5,000.
How? Collect your ticket from the Rewards Centre kiosks and place it in the manual tombola in the middle of the tables non-smoking area. Winners will be selected via manual draw.
Eight participants are drawn for the Blackjack Tournament and another eight for the American Roulette Tournament. Four players will sit across two tables in each tourney. There will be a final table for the top two players of each table. Participants receive R500 in competition chips for the tournaments and finale. Players with the highest chip count on each table go through to the final table. Tournaments will take place once the 16 participants are chosen.
It's a Vibe
When? April 8th
Prizes: A share of R50,000 in cash
Participants will have a chance to select a box and reveal a prize from the 12-box promotional game tool. All 12 boxes contain cash prizes. The prizes will be distributed between 7 pm and 9 pm.
Easter Eggcitement
When? April 15th, 16th and 17th
Prize: The total prize value of R600,000 consists of a car valued at R300,000, R100,000 in cash and R200,000 in Xtra Play.
The earning period is between April 1st and April 17th for the April 17th draw.
Wacky Weekend
When? April 23rd and 24th
Prizes: Total value of R100,000 consisting of R50,000 in cash in each promo date. Winners will be chosen via random selection through an electronic draw between 8 and 9 pm.
Gold Power Winner Mystery
When? April 29th
Prizes: R50,000 Xtra Play
Play slots or table games at GrandWest Casino to stand a chance to win a share of the R50,000 prize.